Experience how the elderly customers can hear using a tablet-type voice simulation tool.
Observe how Gero Talk, a simulation tool that lets the operators experience hearing the same way as elderly customers whose hearing "has diminished due to aging", can improve the customers' responses.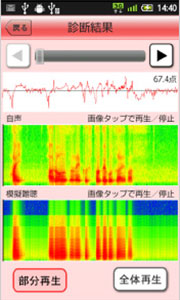 Simulated Experiences of an Elderly Customer's "Hearing Perspective"
Now that we have an elderly society, companies are required to update their response skills with respect to the changes in their customers.
It is very important that the uttered content is transmitted to the other party, because it cannot be conveyed by actions such as expressions or gestures especially in non-face-to-face communication situations such as call centers. However in reality, senior customers have difficulty hearing the voice from the phone or may have misheard what was said. If these conversation problems become longer than necessary due to such hearing problems, customer satisfaction may be reduced and sales opportunities may be lost.
With this background, TMJ co-developed "Gero Talk" with Otodesigners Co., Ltd. "Gero Talk" is a voice simulation tool that allows operators to do a self-check on their voices.
Operators can become aware of the improvement in the response by experiencing how their voice sounds to "a customer whose hearing has diminished with age."
The diagnostic result displays the sound spectrogram image of the voice and the simulated hearing loss.
The score is displayed on the upper right of the scoring graph.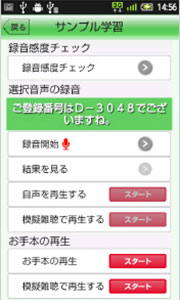 Main Functions of Gero Talk
Self-check
Generates simulated hearing loss speech from your own voice and keeps score of the vocalization.
Last recording and playback
Rewind your previously saved voice recording to simulate hearing loss and check how much you have improved.
Diagnosis history
View the self-check history.
Sample learning
You can learn by model voice and compare it with your own voice.
We have incorporated them into our call center training programs for operators and are continuously working to improve the quality of our senior care services.
Utilization Scene of Chatbot
GeroTalk is used in customer service contact centers in line with various industries such as manufacturing, finance, and the like, which are experiencing different matters concerning elderly people.

Improved efficiency of call centers having long response times.

Newly established senior service counters

Training on how to attend to the elderly
Flow of Gero Talk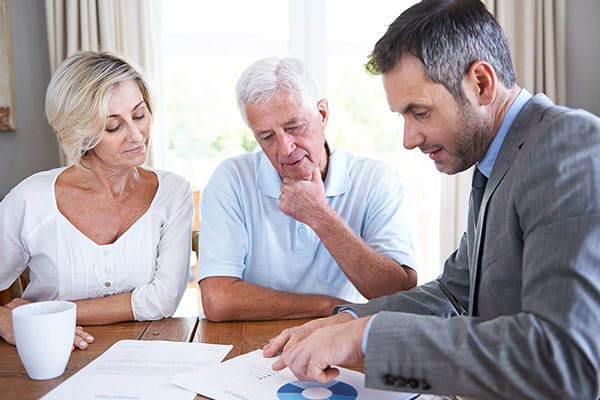 Gero Talk is available as a rental tablet.
Please indicate the number of tablets to be used and the period of time to be spent.
We will give you a quote and check the available stocks.
Please conclude the contract and fill in the order form.
We will deliver the tablet in as fast as two weeks after applying.
Cooperation / Partner Company
Gero Talk is a service jointly developed with Otodesigners Co., Ltd., which creates new value with the keywords "sound" and "ears".

About the Trademark
GeroTalk is a registered trademark of TMJ, Inc.