TMJ offers a service that acts on behalf of other office work wherein representatives can focus on sales
We aim to help sales representatives who are responsible in quotation preparations or calls, business card management of trading partners, sales activities and the like, to focus on operations directly linked to revenue.
Features of Sales Office Support Service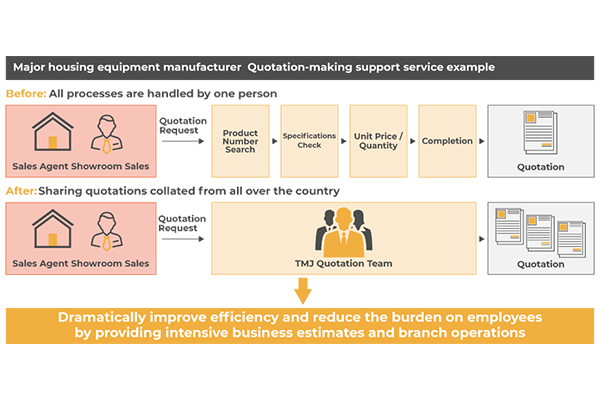 Identify the areas and methods that can be outsourced, and operate the extracted business.

We also extract the load generated in the front and back processes of the target work and receive a little more at a certain stage in time.

In addition to human support, technologies such as RPA and AI-OCR will be adapted to your business.
Benefits of Sales Office Support Service
Utilization Scene of Sales Office Support Service
Sales Department

Quotation writing · Update / Quotation · Invoice printing ~ Shipping / Customer proposal plan change · Photo replacement / Business card management / Event invitation / Attendance · Data sending follow-up phone

Agency Support Department

Document ・ Catalog reception-dispatch / Report ・ Various procedures for office work / Primary response to the inquiry

Branch Office General Affairs Department

Representative telephone power reception aggregation / In-house application office work / In-house application office work / Welfare information guidance ・ Application procedure/training, large-scale training, etc.

Purchasing and Procurement Department

Purchasing ・ Paperwork with external contractors ・ Contracts ・ Contract documents such as contract document management / Inspection work

Store Department

Staff recruitment peripheral procedure · Interview setting / Shift adjustment / Inventory management / Data form management / Report for head office

Showroom ・ Others

Update work such as sales cooperation office work / Reservation homepage・ follow-up / Business talk contents