Credit Card
Sales Support
Sumitomo Mitsui Card Co., Ltd.
Integrate web and phone channels to improve customer experience across departments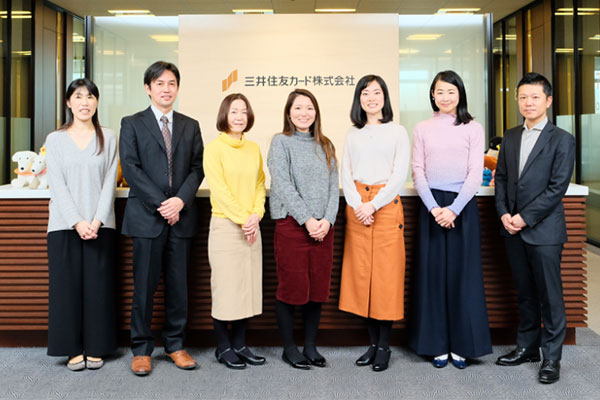 We are reconsidering from the way of organization, and promoting channel improvement from a more "customer-oriented" point of view.
Sumitomo Mitsui Card Co., Ltd., a major credit card company, has been focusing on further improving customer service in recent years based on the "customer first" philosophy.Through the efforts to improve the channels that have been divided up until now by introducing the TMJ improvement plan proposal to be carried out across departments, we asked what kind of findings and results were obtained.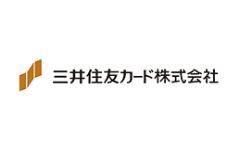 Sumitomo Mitsui Card Co., Ltd.
Founded in 1967.The first Visa card issued in Japan.Diverse businesses have been developed based on the credit card industry know-how, such as debit card, prepaid card, gift card, affiliated stores accepting cashless payment in various scenarios, consignment business that provides solutions for general credit card business etc.We aim to provide comfort by always maintaining close relations with our customers and always making use of our advanced efforts.
Introduction History, Achievements
Customer's Voices
Work on improvement across departmental barriers based on correct task settings.
I feel that my understanding of the true "customer's perspective" has deepened.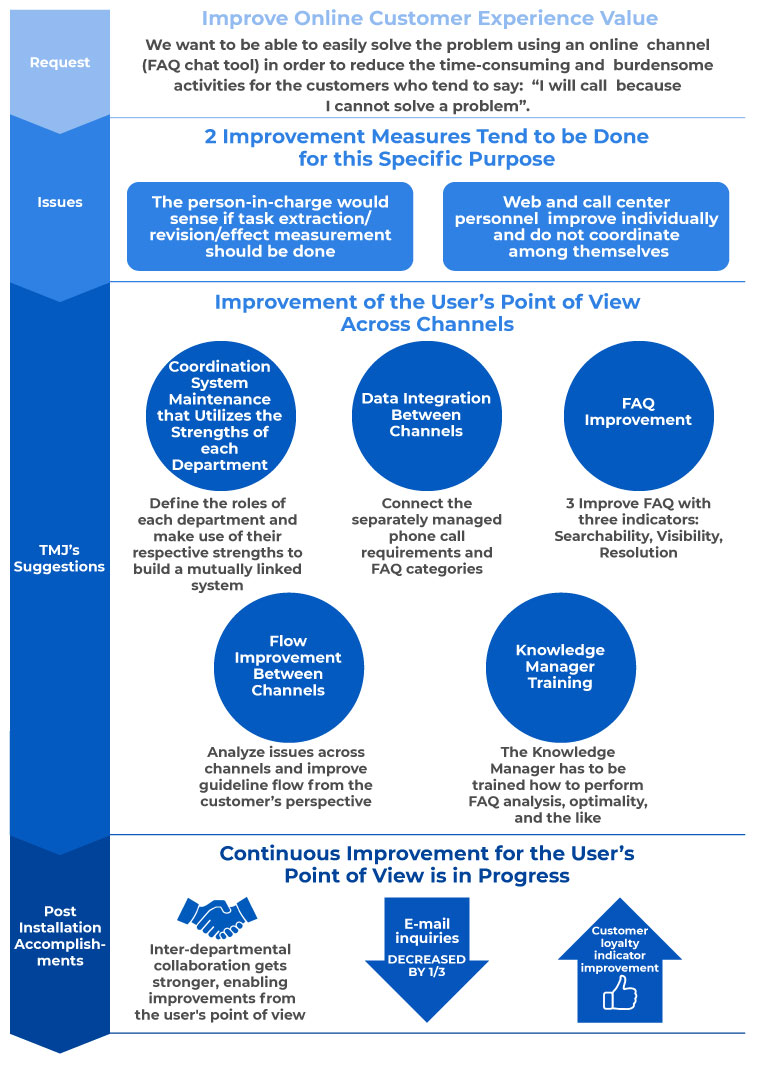 Ad hoc customer support improvement efforts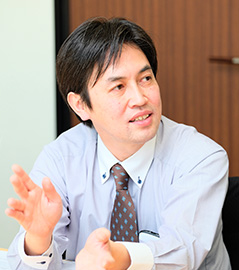 In recent years, we have focused on improving Customer Experience Value. In May 2017, we reorganized to integrate the marketing division who knows the customers, and the Web division and call center divisions who will convey information to customers. Now that contacting customers is digital, I believe it is important to closely communicate to customers. One of the things we have been working on is to make it easy for customers to solve their own problems. However, up until now, although the two related web and call centers have been working on various improvements, there had been no responses. For example, in the FAQ improvements, the questions that should be specifically added and how the content should be corrected was not going beyond the judgement of the person-in-charge, and was progressing separately from the website improvement itself. As a result, we were still fumbling over what "customer-friendly" should be. TMJ suggested that it is "necessary to deepen collaboration between the Web and the call centers, analyze and share issues across contact channels, and work on improvement in order to truly satisfy customers." We relied on the opinion that issues should be analyzed and improved from the customer's behavior, so instead of working alone on just one contact channel each, we linked each channel's information such as our site's access log and FAQ, telephone inquiry content, and the like. We were honestly worried, thinking "Can we really do it?" Still, with a company-wide focus on improving customer experience, if we can make improvements across contact channels, we can make a big difference. We asked TMJ for their support, as they have rich experiences and understood our goals.
Work on improvement across channels from the user's perspective
Firstly, we worked on the web and call centers in charge of improvement, and the division of roles between them. Here, in accordance to TMJ's proposal, the Web Design Department took advantage of the strengths of each part, improving data linking and leads throughout the contact channel, and the FYC Planning Department with close relations to the customers took charge of the FAQ content improvement. By objectively identifying the strengths of each part and assigning roles appropriately, we have continued to make improvements aimed at customer convenience.
Link data of each channel and understand the user's behavior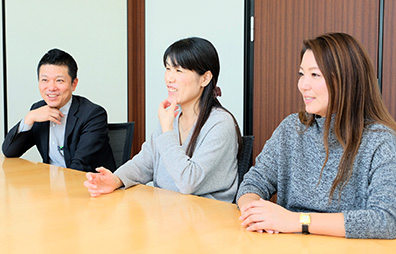 Under such a system, the Web Design Department and the FYC Planning Department proceeded with their respective tasks. The Web Design Department tied data across channels, analyzed customer behavior, and improved leads. Data linking is the task of categorizing telephone correspondences for the past several months into deep FAQ-related entries. It was steady work, but TMJ gave advice on classification methods and efficient procedures, and was able to link about 600 cases. This data made it possible to analyze based on quantitative data such as "There are many call inquiries despite the answers already given in the FAQ = FAQ answers have not been resolved", which was a valuable foundation for improvement. In the customer behavior analysis, after looking at the FAQ, we checked what actions were taken online. Depending on the content of the FAQ, the next action one wants to take may be different such as "solve the problem and move from the FAQ site" or "go to the procedure", so one cannot really understand the effect unless they follow the instruction after reading the FAQ where it originated from. In the lead improvement, we made a review to increase the entry points to access the FAQ site and to improve its functions. For example, for the "frequently searched keywords" displayed on the FAQ site, we changed what was previously stated "payment date" into a compound word such as "payment date deposit" and displayed more narrowed search results. Furthermore, by improving the text size and design of the search results, we have made it easy to find the FAQs that customers want. Also, by setting up a questionnaire in each FAQ, it is possible for customers to directly pinpoint the concepts that are difficult to understand, and by making use of it, it has become possible to improve to an easy-to-use online channel for customers.
Improve the FAQ from three viewpoints of searchability, visibility and resolution
Based on the integrated data created by the Web Design Department, the FYC Planning Department worked to improve the contents of the FAQ. It was a big discovery that changing the answers in the FAQ is not enough improvement. It is only when all three solutions: searchability ("Did it hit the answer I was looking for?", visibility ("Is the content I want to view listed?"), and resolution ("Was I able to solve the problem?") would come together that it becomes easy for customers to use. TMJ's advice was to set numerical targets from the three perspectives. We extracted issues based on quantitative analysis, and worked with the Web Design Department to examine corrections and analyze the results. For example, the term "use limit" we used was not supplemented with words such as "limit amount" which we would often use, even if it is described in the FAQ as carefully as possible, so it could not be found. Currently, a person in charge of improving the FAQ (Knowledge Manager) has been established within the FYC Planning Department, and with the Support of TMJ, we have put up a system that enables them to use the power of PDCA cycles such as problem extraction and improvement measures planning.
In this way, by analyzing the route to reach the FAQ, the searchability, visibility and resolution, and the behavior after browsing, it became an opportunity to understand the customer's perspective that was not noticed until now. New issues are often extracted, and we continue activities for improvement while realizing the importance of each day that passes by.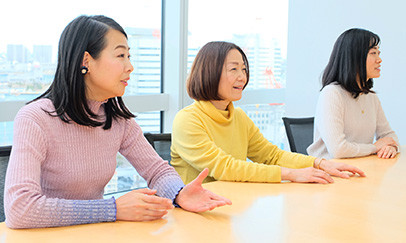 We will continue to make improvements in the future and realize the improvement of customer experience value
In this way, as a result of promoting improvement activities across contact channels, results such as customer loyalty improvement (NPS) indicators and email inquiry reduction to one third have been observed. Furthermore, I feel that we have gained important awareness through our improvement efforts. Up until now, each department has been thinking "How should we improve the contact channel we are in charge of?", yet our viewpoint changed to "What kind of customer support is needed to provide our customers with a pleasant experience?" I feel that it is now possible to improve the customer-first philosophy in an optimal way based on the correct task settings. In the future, we will further strengthen our efforts to embody "customer first" and create pleasant experiences for our customers as much as possible.