TMJ offers award-winning contact center training curriculums to ensure all of its agents possess necessary skills to maintain high-level customer support that is required in the Japanese market by repeating effective "experience" and "review" processes.
Features of TMJ's HR Development and Training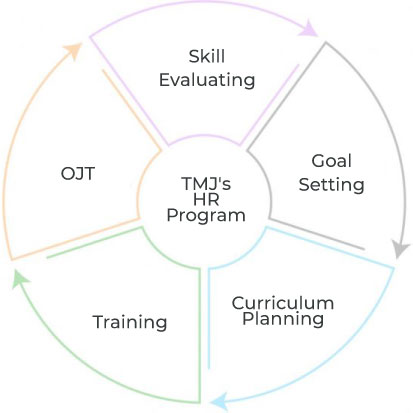 All Contact-Center Related Curriculums being Covered by TMJ University
TMJ maintain a world-standard quality services through its in-house training program called, "TMJ University". All of the employees working at TMJ's contact center must take and pass TMJ University's curriculums to ensure all of them possess the necessary skills and knowledge to build its culture and reputation of operating efficient and high-quality contact center.
Awards
TMJ's training curriculums and its process have been praised and awarded by many stakeholders and organizations.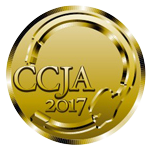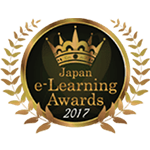 Effects of TMJ's HR Development and Training
Increase in overall knowledge and skill levels among the employees.
Improvement in performance, leading to increase in sales.
Utilization Examples of TMJ's HR Development and Training
Increased Utilization of Blended-Learning


To shorten training period and increase training efficiency, TMJ combines e-learning with group training based on client's needs and demands.

Follow-up Learning


Reviewing and participating in individual trainings and/or 1-on-1 meetings after the training session enhances the understanding of the training curriculums.



TMJ's HR Development and Training Program
Training Content
Duration
Target
Operators
Target
Manager
Training Type
Group Training
Training Type
e-Learning
Basic Telephone Support Skills
3.5 Hours

✓

✓

✓

Active Listening Skills
3 Hours

✓

✓

✓

Speaking skills
3 Hours

✓

✓

✓

CS & Service Quality
3 Hours

✓

✓

Complaint Processing
3 Hours

✓

✓

✓

Outbound calls Basic Skills
4.5 Hours

✓

✓

Sales Communication
3 Hours

✓

✓

✓

Social Style
3 Hours

✓

✓

✓

✓

Basic Call Center Knowledge
3 Hours

✓

✓

Quality Management
3 Hours

✓

✓

Smooth Communication with the Elderly
3 Hours

✓

✓

✓

Elderly Support Skills
3.5 Hours

✓

✓

✓

✓

Elderly Communication Training Tool "Gero Talk"

✓

✓

*table-learning

Improvement Method for Productivity
6 Hours

✓

✓

Basics On-Site Management Skills by IE
6 Hours

✓

✓

HR Development
4 Hours

✓

✓

1on1 Procedure
4 Hours

✓

✓

✓